Choosing the Right Website Platform for Your Business: A Comprehensive Guide
The right website platform for your business makes all the difference in the world. It is the virtual storefront of your brand. Our personal choice is WordPress and always will be. However, in this article, we have provided a comprehensive guide to finding the right CMS for your business. 
Having a strong online presence is crucial for the success of any business. A well-designed website can be a powerful tool to attract and engage customers. However, with a plethora of website platforms available, making the right choice can be overwhelming. This guide aims to demystify the process and help you select the perfect website platform for your business.
Define Your Goals and Needs
Before diving into the sea of website platforms, it's crucial to understand what you want to achieve with your website. Consider factors such as:
Purpose of the Website:

Are you selling products, providing services, sharing information, or a combination of these?

Scalability:

Do you foresee significant growth in the near future? Your platform should be able to accommodate expansion.

Ease of Use:

How comfortable are you with technical aspects? Do you need a platform with a user-friendly interface?

Customization:

Do you have specific design and functionality requirements that demand a high level of customization?
Budget Considerations
Budget plays a significant role in choosing the right platform. While some platforms are free, others require a subscription or hosting fees. Consider not only the initial cost but also ongoing expenses for things like domain registration, hosting, and potential plugin or theme purchases. Don't forget that website platforms like WordPress are a great free option. However, it's important to know your way around so you can use WordPress for your specific business needs. 
Content Management System (CMS) Selection
The choice between a CMS and a website builder is pivotal. A CMS like WordPress, Joomla, or Drupal offers high customization and flexibility but requires more technical knowledge. Website builders like Wix, Squarespace, and Shopify are user-friendly but might have limitations in customization. Our personal choice is WordPress simply due to versatility and adaptability to business needs from a brochure to an e-commerce site. 
E-Commerce Capabilities
If you plan to sell products online, you'll need an e-commerce-friendly platform. Platforms like Shopify, WooCommerce (for WordPress), and Big Cartel are popular choices, each with its own set of features and integrations.
SEO Friendliness
Search Engine Optimization (SEO) is crucial for visibility on search engines like Google. Ensure your chosen platform allows for easy optimization of meta tags, URLs, and content structure. Platforms like WordPress are known for their SEO-friendly features.
Mobile Responsiveness
With the increasing use of mobile devices, a mobile-friendly website is essential. Make sure the platform you choose automatically optimizes your site for various screen sizes.
Third-Party Integrations
Consider what third-party tools and software you'll need to integrate with your website. This could include email marketing services, payment gateways, analytics tools, and social media platforms.
Security and Updates
Ensure the platform prioritizes security and provides regular updates. This is critical for protecting your website from potential threats and vulnerabilities.
Support and Community
A robust support system and an active user community can be invaluable, especially if you're not a technical expert. Look for platforms that offer reliable customer support and have a large user base.
Testing and Experimentation
Finally, don't hesitate to test platforms before committing. Many offer free trials or limited versions. Experimenting with different platforms can give you a firsthand feel for what works best for your business.
Choosing the right website platform for your business is a decision that should be made with careful consideration of your goals, budget, technical skills, and specific requirements. Our choice will always be WordPress simply because we have become fluent in its capabilities and growth potential. By following this comprehensive guide, you'll be well-equipped to make an informed choice that sets the foundation for a successful online presence. Remember, the right platform is the first step towards a thriving digital venture!
Do you have anything else to add to this article? Let us know!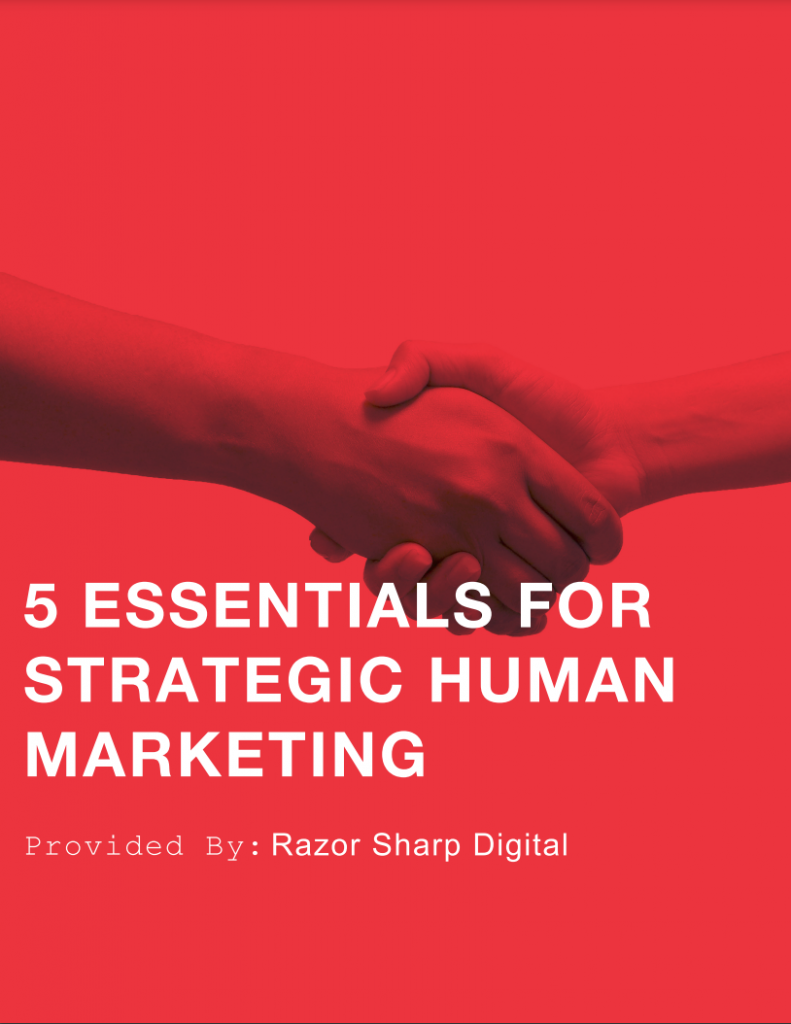 Learn about strategic human marketing and how it can benefit your business.

Download for FREE TODAY!
Get all the latest content, news, and digital marketing insights to help you humanize your brand.
We Are Your Human-Centric Marketing Partner
Your company needs humanization and personalization in order for it to thrive and grow. Our systematic, strategic, and seasoned approach will help you thrive and grow. Let's discuss ways we can help your business become more human-centric so you can dominate.